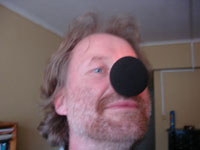 Reiner Krause
http://rkrause.cl/intro/
+ NET
1957, Hoyerhagen, Germany.
He lives and works in Santiago de Chile since 1987.
Sound and Visual Artist
M.F.A. in Visual Arts, Universidad de Chile.
Thesis
Scholar at the Universidad de Chile, Coordinator Postgraduate Diploma on Sound Art.
Several individual exhibitions in Germany, Chile, Spain and Canada since 1985.
Participation in collective exhibitions in Europe and Latin America.
Curatoriship of exhibitions, events and art projects since 2005.